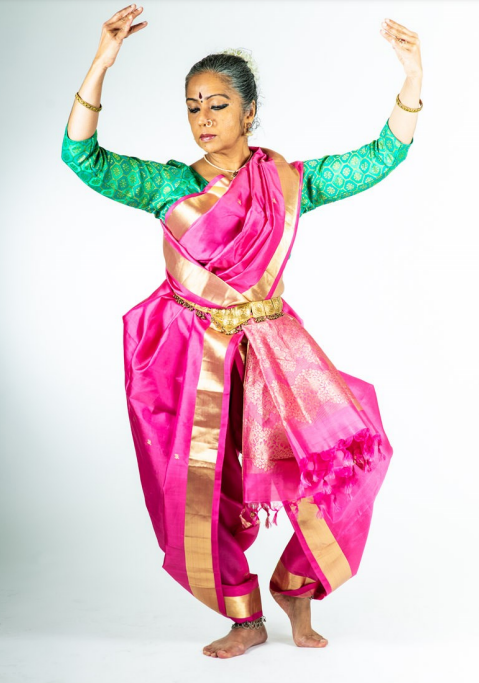 We live in times of a profound disconnection with Body. This is not a new phenomenon, it began centuries ago with the patriarchal valuing of mind, rationality and linearity as the lenses to approach Reality. Today we are living its aftermath, where Body has been conquered by mental paradigms even in most "embodied" knowledge.
In ancient traditions across the world, the dancer-shaman-seer-priest was the wisdomkeeper. They manifested divinatory wisdom through ritual body-led expressions. In these traditions, the dancer is Deity, dance is Reality and dance is Inquiry. A dance inquiry is located in the terrain of Body as its "site" or "field of manifestation". The emergent revelation is the guidance we receive to navigate Reality, beginning with our own intimate terrain of Body.
In this presentation Padma will offer her experience of travelling into the caverns of dance, ritual, archetypes and philosophy over four decades. Her inquiry has been a commitment to supporting mystery as a radical intelligence that can position us in our rightful place within Nature through re-experiencing Body as sacred Consciousness.
About Padma Menon
Padma Menon is a dancer, philosopher and writer, who offers dance as a contemplative or spiritual practice. She helps those seeking to reclaim their sacred selves by generously sharing her lifetime's knowledge in sacred dance, philosophy and ritual—so that they can experience unconditional freedom, taste their true essence, and move in this world in a sacred way.
Padma has a unique approach to dance, rooted in ancient philosophy and practice, but locating it in the reality of our bodies and consciousness in these times. As a choreographer-dancer-teacher with over forty years of international experience, Padma brings a deep intelligence about the nature of dance itself, and its lens on reality as a language that is body-led (rather than embodied).
Padma hails from a matrilineal family of writers, activists and philosophers. She was a child prodigy and began her dance career at the age of nine in India. She was a leading dancer in the Kuchipudi style of dance, which is an ancient temple dance tradition. When she moved to Australia in the 90's, she developed one of the first professional non-western dance companies that had a national and international performance profile. Padma then moved to the Netherlands and created significant contemporary works which eschewed colonial interpretations of contemporary aesthetics for a radical aesthetic that was sourced from the depths of Indian practice. Padma also developed a centre for dance in India which helped women to live their full and sacred presence in their lives.
In addition to traditional Indian dance, Padma studied contemporary dance, Indian philosophy, yoga and martial arts. During a period away from dance, Padma led not for profit organisations advocating for cultural diversity issues. She has a Masters in Choreography from Codarts Academy in the Netherlands and a postgraduate degree in English Literature from the Australian National University.
Currently Padma offers her teaching and programs online and internationally through Moving Archetypes which she founded.