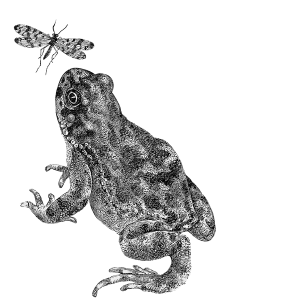 Tonight Florence Forrest, the society's new Communications and Library officer, will be outlining her vision on The Toad Pond and will be discussing the new arrangements with the Society's library and bringing the library materials and borrowings back to life after a hibernation period.
The Toad Pond is a new initiative to stimulate the conversation and excitement in Jungian understandings in the Queensland wilds. It is intended to make a place in which to share, encourage and be stimulated by not only our local conversation in the Society but also by the wonderful wellsprings of interest in the psyche taking place around the world. No experience is required, only curiosity and a friendly desire to be "in the room" for what might ferment with our coming together over coffee in a convivial environment.
The name is inspired by Marie-Louise Von Franz. In a 1979 interview she shares her favourite place around her tower, the toad pond, which she dug out herself from a very small pool. She spoke of the special toads that lived there, called Unke, which exist nowhere else but in the pre-Alps area of Switzerland and Austria. What she loved most about these little people, who emerged from winter hibernation in spring, was their beautiful bell-like call that echoed enchantingly around her tower. It was the place she did all of her deepest thinking and writing. Like Jung's own tower in Bollingen, her tower was the place she was most herself.
The Toad Pond gatherings will be held at the GOMA cafe in the Southbank Cultural Precinct at 10am on the Saturday morning following the usual first Thursday of the month's Society lecture.
The gathering will last about an hour, with the probability of overflow based on the day's energy. Meet at the elephant sculpture in front of the café beforehand. For regular updates about The Toad Pond gatherings see the e-news reports and the C.G. Jung Society of Queensland Facebook page
Enquires or RSVPs to Florence – (text) 0417 975 970.
About Florence Forrest
Florence is a Jungian enthusiast with over fifteen years of personal involvement with Jungian material primarily using dreams. She studied Economics and Arts (majoring in Art History) at the Australian National University, Canberra. Other areas of her life have involved: being a carer; an art-toy designer – exhibiting both in Brisbane and group exhibitions around the world; she's been a member of art/craft collective – The Umbrella Collective; and a former dramaturge with OzFrank Theatre Praxis.
She's also a poet, artist, arts writer/ speaker. Currently, Florence is building a practice as a cartomancy consultant – The Book of Hermes. Having a great many interests reaching across the arts, literature, spirituality, esotericism, psychology and community, she sees herself as a life-long learner.