The Curious History of the Flammarion Woodcut
A presentation by Laurence Browne
Thursday, September 5, 2019 7.30pm - 9.30pm
Venue: St Mary's Anglican Church Hall
455 Main St. Kangaroo Point, QLD 4169
Admission: Members & Concession: $10 • Non-members: $15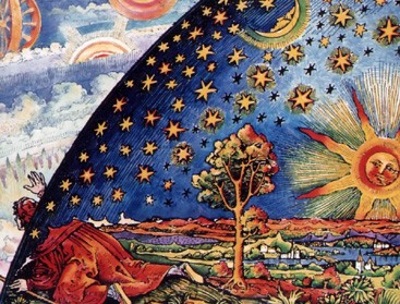 This widely reproduced image has long captured the popular imagination. Although at one time thought to have been created during the Renaissance, the origin of the woodcut (or more accurately a wood engraving, according to Wikipedia) has been traced to L'atmosphère: météorologie populaire (1888) by the astronomer and science writer, Camille Flammarion.
The woodcut has been very widely reproduced and adapted, especially since the late sixties, when it represented the counter-cultural quest of young 'pilgrims' in search of the secrets of the universe far beyond the 'flat earth' perspective of materialistic society. Over the years, the illustration, in various guises, has appeared on cards and posters, in books and brochures, and is widely available on the internet. The details of the woodcut have been interpreted in many different ways, usually with the theme of a transition from ignorance to knowledge.
C. G. Jung includes the woodcut as an illustration in his essay, Flying Saucers: a modern myth of things seen in the skies. He equates the disc-like shape of flying saucers, as UFOs were known in the 1950s, with the projection of mandalas from the unconscious. His associate Marie-Louise von Franz goes further. She reproduces the image in her book Number and Time and makes use of the illustration as a pictorial metaphor for synchronicity, pointing out the symbolic significance of two features in particular:
1) the open hole in the fabric of the known world, and
2) the functionally untenable double wheel.
These and other interpretations of this famous image will be explored during the talk.
Laurence Browne was awarded a PhD in Philosophy from the University of Queensland in 2014. He lives in Brisbane with his wife and younger daughter and enjoys travelling and writing. In 2017, his thesis was published by Imprint Academic of Exeter, UK, under the title The Many Faces of Coincidence.