The Future of Apocalyptic
A presentation by Colin Weightman
Thursday, October 3, 2019 7.30pm - 9.30pm
Venue: St Mary's Anglican Church Hall
455 Main St. Kangaroo Point, QLD 4169
Admission: Members & Concession: $10 • Non-members: $15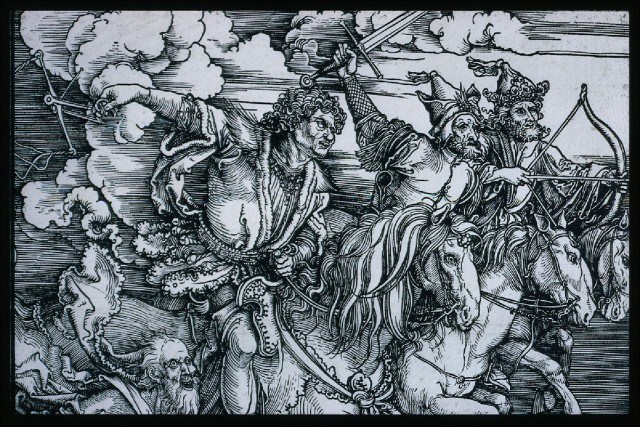 Of course apocalyptic has a future. It's all about the future! The word apocalyptic itself (from Greek meaning an uncovering or revealing) is understood today as speculation and predictions about the end of the world. It is also used to describe contemporary disasters if they have apocalyptic-like features as in the movie Apocalypse Now (1979).
In the 1970s the chief pin-up boy of popular Christian apocalyptic fervour was American pastor Hal Lindsey and his enormously popular The Late Great Planet Earth (Zondervan). I was caught up in this for a time and even published a book on the subject called These Cry Wolf! (which I now keep hidden in my study).
After describing my own experiences I will examine what books constitute the Christian apocalyptic writings. In the bible the two pre-eminent apocalyptic writings are Daniel in the OT and Revelation in the NT. Outside the bible I must add the Jewish apocalyptic work The Book of Enoch especially as it is much quoted by Jung.
But apocalyptic also has a long past. The history of apocalyptic goes back to the dawn of civilization and every major religion has its apocalyptic writings. I will examine Buddhist apocalyptic, as well as the current rise of apocalyptic thinking in Islam, particularly among extremists like ISIS.
Finally I will examine what Carl Jung has to say on apocalyptic. This will bring us to his 1952 work on the OT book of Job which he called Answer to Job (ATJ). Most of what Jung says on apocalyptic, the end-times, and human history is squashed into ATJ. He moves from the history of individuals to the history of humanity's understanding of "God", or the Godconcept. Jung uses Job as the starting point for a survey of history from creation to the future apocalypse. ATJ is a psycho-biography of God. Or put more carefully, it is an account of the development of the God-archetype in the collective unconscious, over history. I will conclude by examining Jung's comments on Revelation in ATJ.
Colin Weightman is a freelance scholar and writer who began his university studies in physics and pure maths. Branching out, he later undertook a degree in theology and became a UC minister. While a theology student he gained a doctorate in religion and philosophy-ofscience at UQ which was published by Peter Lang. Colin served parishes in Qld and NSW for ten years, but became disillusioned with the church and reverted to the occupation of maths tutor.
Subsequently he met Gail Godfrey when he tutored her daughters, and later collaborated on various projects. Her recent work in music psychotherapy was based on Jungian principles, and thus Colin became interested in Jung. He is currently writing books on Nepal, music, spirituality, sexuality and mathematics. Colin is the society's new librarian.