Dancing In The Flames
A film night on renowned Jungian analyst and author Marion Woodman
Thursday, May 2, 2019 7.30pm - 9.30pm
Venue: St Mary's Anglican Church Hall
455 Main St. Kangaroo Point, QLD 4169
Admission: 5 Contribution
"Powerful and insightful, this documentary provides a close up look at the life of renowned Jungian Analyst and author, Marion Woodman. With honesty and her trademark wit, Woodman shares the mysteries of her own soul's journey and reveals a series of psychological "deaths" and "Rebirths" that made her one of the wisest and most authentic women of the twentieth century. Featuring stunning animation from Academy Award winning artist, Faith Hubley, and dialogue and insight from author and mystic, Andrew Harvey. Marion weaves her inner and outer lives together and transmits the core truth of what it is to be human.
This is no ordinary film, but a rare, powerful, and moving story about the dramatic evolution of an individual soul beautifully captured on film. Yet the deeper story is not about one individual alone. What makes this timely film so compelling is the underlying archetypal message about living, dying, and transformation, a challenge we all need to confront in the new millennium."
— Polly Armstrong, The Journal of the C.G.Jung Foundation
Marion Woodman who died in 2018, was a most beloved Jungian Analyst, writer and mythopoetic voice for her generation. She brought the 'Dark Feminine' into consciousness and helped many people who were trapped irrevocably in addictive behaviours and body-denying lives. She made her work out of acknowledging the need to own our bodies intimately, within the psychological lives we live.
"As consciousness develops, the body will act as a donkey for only so long," (Ms. Woodman wrote in one of her books.) "Men as much as women need to know that their soul is grounded in their own loving matter: 'This is who I am. Every cell in my body tells me this is of value to me – not to my persona, to me.'"
Her own illness (cancer) moved her out of her own conventional pathway and into an exploration of her inner life.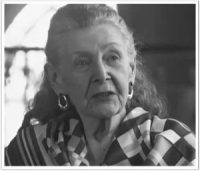 "We each are thrown into our own fire and the room in the Ashoka Hotel [India] was mine. There was no one to phone, no one to visit, nothing to do. All escapes were cut off. I had to move into my own silence and find out who was in there."
She also embraced the greater realities of our collective lives today…
"But I also believe that there is a new global culture being called for—and that means that every country is going to have to surrender its selfish nationalism and open up to a global community. The earth has moved from tribe to group to country – and now even these systems are too small. We are moving towards global community, and in the process narrow [nationalistic] loyalties will have to be surrendered to the larger whole"
Her work was and continues to be an unfolding of some of the richest within the field of Jungian studies.
There will be a short panel discussion following the film if time permits.