Ancient Feminine Wisdom for Turbulent Times: The Sumerian Goddess Inanna and her Journey to the Underworld
A presentation by Jenni Cargill-Strong
Thursday, August 1, 2019 7.30pm - 9.30pm
Venue: St Mary's Anglican Church Hall
455 Main St. Kangaroo Point, QLD 4169
Admission: Members & Concession: $10 • Non-members: $15
In Mesopotamia (ancient Iraq), the Sumerian Goddess Inanna (Ishtar) was more loved and honoured than any other deity, male or female.  Known as the Queen of Heaven, she was worshipped as the Goddess of Love, War, and Fertility as well as Venus, the Morning and Evening Star.  Her presence in cuneiform texts dates back to 1900 B.C.E. Sumeria,  considered the cradle of civilisation. She continued to be worshipped in the Middle East at least to the time of the Bible where she is referred to as the Queen of Heaven.
Inanna's myth cycle is reportedly also our oldest written story. It was inscribed on clay tablets, which became broken and were held in various museums in different countries. But when the pieces of the puzzle were painstakingly and finally put together in the 1980's, academics and storytellers realised this oldest of tales was still a myth for our times.
Now in 2019, as human hubris threatens all life on earth and warnings of civilisation collapse loom, perhaps the tale of Inanna's Descent to the Underworld holds more significance and medicine than ever, not only for women but for humanity. How can Inanna's Descent and the archetype of her dark sister, Queen of the Underworld, Ereshkigal , help us as we collectively deal with the grief of the destruction currently being wrought by our civilisation on humans, creatures and nature?  How do we prepare ourselves for these times of rapid change, let go of the expectations we have while continuing to take constructive action in our lives, rather than sliding into disabling despair and inaction?
Drawing on the ideas of Jungian analyst, Sylvia Brinton Perera, in "Descent to the Goddess" Jenni will perform extracts from the Descent myth, while weaving commentary on its relevance in this current moment of human history.  She will share ways to use the myth as a beautiful roadmap for a life of courage, resilience and richness.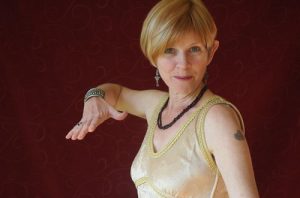 Award-winning professional storyteller and storytelling coach, Jenni Cargill-Strong, first performed Inanna's myth cycle as her graduating performance at The Drama Action Centre in Sydney. A trained secondary teacher, specialising in English, she has taught storytelling to teachers, librarians, parents and children and university students. Her involvement in activism led her to begin teaching environmental storytelling. However, as the essential principles in her workshops applied to change-making of many kinds, she expanded into 'Storytelling for Changemakers'. Jenni curates 'Stories in the Club', a monthly community concert in her hometown of Mullumbimby. She is also a trained facilitator of 'Joyality: a program for personal and planetary transformation'.