Levelling the Hero Part Two: Re-imagining Anima
A presentation by Marie Makinson
Thursday, April 4, 2019 7.30pm - 9.30pm
Venue: St Mary's Anglican Church Hall
455 Main St. Kangaroo Point, QLD 4169
Admission: Members & Concession: $10 • Non-members: $15
"Muse,
When, in the night, I wait for her, impatient,
Life seems to me, as hanging by a thread.
What just means liberty, or youth, or approbation,
When compared with the gentle piper's tread?
And she came in, threw out the mantle's edges,
Declined to me with a sincere heed.
I say to her, "Did you dictate the Pages Of Hell to Dante?"
She answers, "Yes, I did."
— Anna Akhmatova 1924
In part one of 'Levelling the Hero' we considered the vivid, creative, spiritual streams, flowing into and out of the hub of early twentieth century Zurich, birthplace of Analytical (Jungian) Psychology. Imagination and the creative arts were at the centre of this birth just as they are at the centre of Analytical Psychology. This was absolutely confirmed by the publication of 'The Red Book' in 2009, the end result of Jung's engagement in 'active imagination' and the foundation for his later concepts. We looked at the work of some relatively unknown women artists working with similar and related ideas whose genius and creative vision gave form to numinous material moving into consciousness from the deepest levels of psyche.
Ceramic by Melinda Monks
In part two we will consider the contribution and position of women who worked closely with Jung on the project of analytical psychology. We will explore and perhaps challenge the ideas that coalesced around 'Anima' and that of woman as 'Muse.' The poem (above) by Anna Akhmatova written in 1924 suggests that the female 'Muse' is a guiding figure for creative women too. My work confirms this… so, what does this imply for Jungian concepts about the contra-sexual image and it's relationship with the unconscious? Hopefully we shall have another good discussion.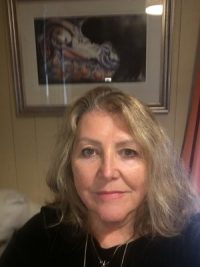 Marie Makinson is a former president of the CG Jung Society of Queensland. She believes that Analytical Psychology offers a unique approach to understanding the nature of the psyche and developing a conscious relationship to it. The work of Analytical Psychology is carried out with patience and humility, building a sacred space in which the psyche can communicate through the language of symbols. The role of the ego in the work is is that of holding an attitude of curious, caring awareness. The processes of analytical psychology illuminate our individual human gifts and enhances our potential for shaping our collective future.
Marie is a senior Jungian Analyst trained in London with GAP and a member of ANZSJA and IAAP. She works as an Analyst and Jungian Sandplay Therapist in private practice in Red Hill in Brisbane.